DevOps India Summit 2018
August 31, 2018

-

September 1, 2018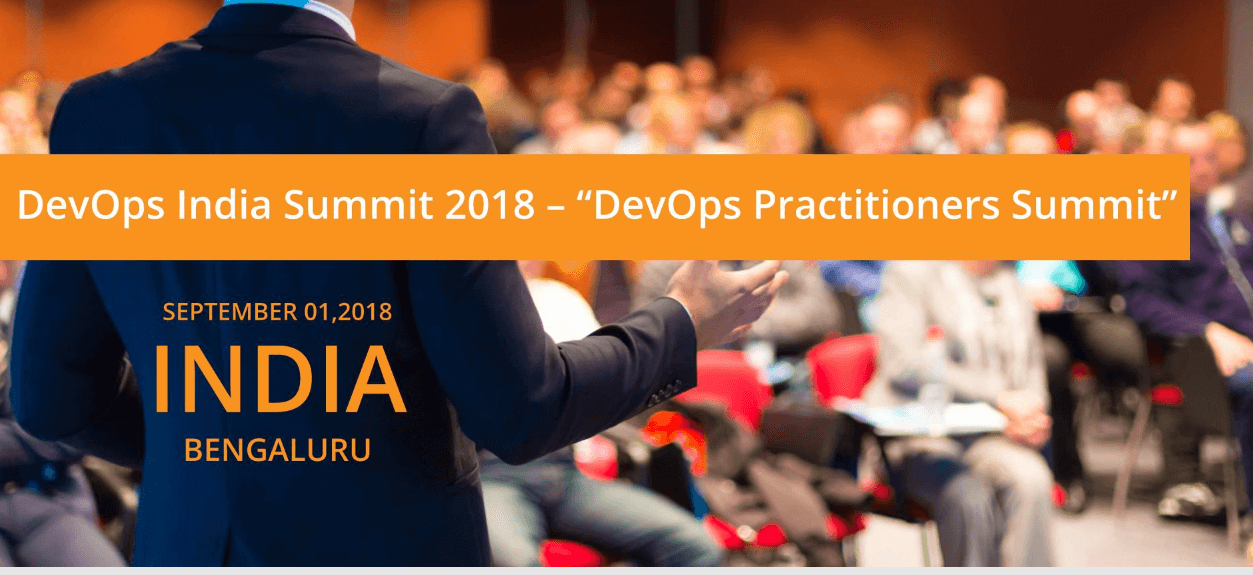 DevOps India Summit 2018 is a conference for the Indian DevOps Community to hear for the first time the stalwarts of DevOps on what and how they have implemented DevOps in their complex organization and also know what the world is doing today in DevOps.
DevOps India Summit 2018 provides keynote sessions by eminent speakers, panel discussion and breakout sessions. It will also have a community space for spontaneous gathering, presenting what they are doing and exhibit booths.
Sessions will be led by leaders who are pioneering these practices in large and complex organizations across a wide range of industries.
The keynote speakers will be industry luminaries as well as speakers from well-known organizations who will share their experience and learnings from their enterprise DevOps initiatives.
Event Theme: "How-to" DevOps.
IT leaders and engineers will hear first-hand from well-known DevOps industry leaders. The pre-event and conference covers practical approaches that have proven to accomplish DevOps cultures and continuous delivery pipelines effectively. DevOps service and tool providers will be exhibiting capabilities that accelerate implementations of continuous delivery pipelines.
Speakers
John Willis
Vice President of DevOps & Digital Practices at SJ Technologies
Alan Shimel
Editor-in-chief of DevOps.com
Sanjeev Sharma
Author of the DevOps Adoption Playbook.
Marc Hornbeek
Author of Continuous Delivery Architect and DevOps Test Engineering
Ashish Kuthiala
Director of Product Marketing at GitLab Inc.
Amanda Mattos
Devops Specialist at Oi S.A.
Niladri Choudhuri
CEO at Xellentro
Mukta Aphale
Founder & CEO at Crevise Technologies
Ashok Kumar Mysore
India Agile & DevOps COE at CGI
Urmila Kandha
Author of Essentials of Agile Transformation
Agenda
Pre-Event Friday, August 31
 8:00 AM – 8:30 AM : DevOps India Summit 2018 Pre-Conference Registration
Concurrent Session
 9:00 AM – 4:00 PM : Track 1 – How to Architect Continuous Delivery
 9:00 AM – 4:00 PM : Track2 – GitLab Team – Technical Session
 9:00 AM – 4:00 PM : Track3 – G2G3 DevOps Simulation
Track 1 Marc Hornbeek (Speaker) | Track 2 Speaker from GitLab **TBD** | Track 3 Niladri Choudhuri (Facilitator)
Event Day Saturday, September 1
 8:00 AM – 8:30 AM : DevOps India Summit 2018 Registration
 9:00 AM – 9:15 AM : Plenary – Welcome to "DevOps India Summit 2018"
General Session
 9:15 AM – 10:00 AM : Alan Shimel: State of Enterprise DevOps and Security
 10:00 AM – 11:00 AM : John Willis: DevSecOps
 11:00 AM – 11:15 AM : Networking Break + Expo Floor Open + Lightning Talks
Concurrent Session I
 11:15 AM – 12:00 PM : Sanjeev Sharma: Enterprise DevOps Transformation Playbook
 12:00 PM – 12:45 PM : Talk by Ashish Kuthiala
Concurrent Session II
 11:15 AM – 12:00 PM : Talk by Tricentis (Gold Sponsor)
 12:00 PM – 12:45 PM : Talk by CFP1
Concurrent Session III
 11:15 AM – 12:00 PM : Talk by Sponsor 2
 12:00 PM – 12:45 PM : Talk by CFP 2
12:45 PM – 1:30 PM : Lunch Break
Concurrent Session I
 1:30 PM – 2:15 PM : Talk by Amanda Mattos
 2:15 PM – 3:00 PM : Marc Hornbeek: Engineering Continuous Delivery Architectures
 3:00 PM – 3:30 PM : Talk by Mukta Aphale
 3:30 PM – 4:00 PM : Talk by Niladri Choudhuri
Concurrent Session II
 1:30 PM – 2:15 PM : Talk by CFP 3
 2:15 PM – 3:00 PM : Talk by Sponsor 3
 3:00 PM – 3:30 PM : Talk by Sponsor 4
 3:30 PM – 4:00 PM : Talk by CFP 4
Concurrent Session III
 1:30 PM – 2:15 PM : Talk by CFP 5
 2:15 PM – 3:00 PM : Talk by Sponsor 5
 3:00 PM – 3:30 PM : Talk by Sponsor 6
 3:30 PM – 4:00 PM : Talk by CFP 6
4:00 PM – 4:15 PM : Tea Break + Lightning Talks
General Session
 4:15 PM – 5:45 PM : Panel Discussion
 5:45 PM – 7:30 PM : High Tea & Networking
 7:00 PM Event Close
Related Events